Last winter The Tree Company pruned an old Acer capadocicum for one of our longest standing clients. Our client's home is located right on the banks of the river Thames in southwest London and boasts a lovely collection of trees. We have enjoyed being their preferred tree surgeons for over 15 years, and it means we have got to know their trees very well.
The Acer is a great specimen and is fully-grown. Over the years we have thinned out the middle of the tree to allow light to the lawn. Sadly the tree is now getting on a bit and we need to manage its eventual decline.
The best way to do this is to carry out light reductions over a long period of time. So at the beginning of this year we did a 15% crown reduction using only hand tools, the trusty Silky saw and Felco secateurs.
In around 3-5 years time, depending on the response from this year's reduction, we will carry out a further light reduction.
The aim is to reduce the size of the crown without shocking it too much, and to promote some growth lower down in the crown (which is lacking due to the historic thinning) thus creating a smaller more compact crown which should lead to a longer life for the tree and extended enjoyment for our client.
A client of The Tree Company, to the west of London, recently had a problem. They had several dead, standing veteran trees along side a busy road on their estate and they were beginning to become unstable and liable to collapse in to the road.
Something had to be done. Due to the nature of the trees they could not just be removed, so after consultation with English Nature, the governments advisory body on the environment, a plan was made. The trees would be dismantled in as big a bits as possible using a crane and the large stumps dug up and the whole lot transported to an out of the way area to be half buried in the ground.
This sounds a bit mad but the reasoning is sound. Old dead trees support a great deal of wildlife from bugs and beetles to mosses, lichens and fungus to bats and birds and small mammals (we found several Stag beetle lava).
Some of this wildlife are rare species and some only live in dead trees and stumps. By carefully dismantling the trees and digging out as much as possible this valuable habitat could be saved and the flora and fauna disturbed as little as possible.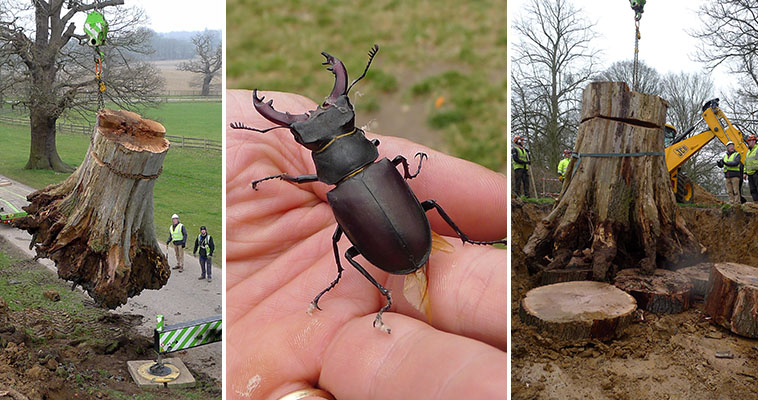 The Tree Company is proud to be involved in this project, it is the sort of creative tree surgery that really excites and it is nice to have a change from the regular every day felling and reduction work. We will be keeping an eye on the results and progress of the move. Look out for updates in the future.