A client of The Tree Company, to the west of London, recently had a problem. They had several dead, standing veteran trees along side a busy road on their estate and they were beginning to become unstable and liable to collapse in to the road.
Something had to be done. Due to the nature of the trees they could not just be removed, so after consultation with English Nature, the governments advisory body on the environment, a plan was made. The trees would be dismantled in as big a bits as possible using a crane and the large stumps dug up and the whole lot transported to an out of the way area to be half buried in the ground.
This sounds a bit mad but the reasoning is sound. Old dead trees support a great deal of wildlife from bugs and beetles to mosses, lichens and fungus to bats and birds and small mammals (we found several Stag beetle lava).
Some of this wildlife are rare species and some only live in dead trees and stumps. By carefully dismantling the trees and digging out as much as possible this valuable habitat could be saved and the flora and fauna disturbed as little as possible.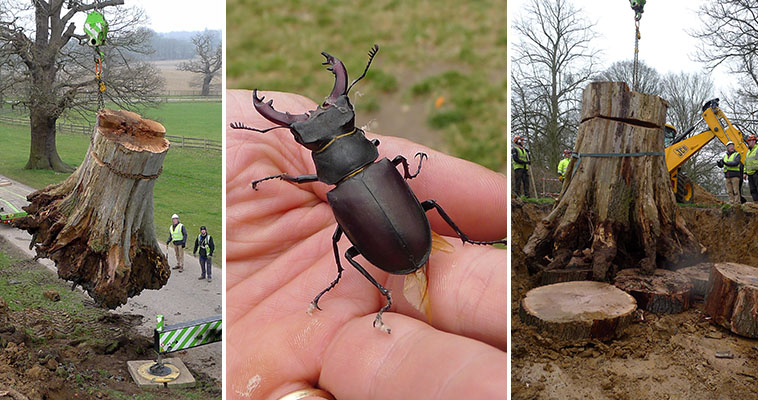 The Tree Company is proud to be involved in this project, it is the sort of creative tree surgery that really excites and it is nice to have a change from the regular every day felling and reduction work. We will be keeping an eye on the results and progress of the move. Look out for updates in the future.